Don't forget! Middle School students have a regular day of classes on Monday, November 22nd. Tuesday, November 23rd is NOT a student attendance day. November 23rd is for parent-teacher conferences ONLY. Have a Happy Thanksgiving!

ATTENTION, PARENTS AND STUDENTS: NO AFTER SCHOOL ACTIVITIES TOMORROW (WEDNESDAY, NOVEMBER 10).

LINK FOR AFTER SCHOOL ACTIVITIES FOR QUARTER 2:
https://forms.office.com/r/HXWgXFmywj
Please remember there needs to be a separate form for each child. This link will be valid from 7:00 a.m. on 10/29/21 until 7:00 p.m. on 11/8/21. Only Power Hour can be added at parent request after the link closes.

AFTER SCHOOL ACTIVITIES FOR QUARTER 2! Please review these activities with your child to make selections. NOTE: The link to sign up for activities will be live from 7:00 a.m. on 10/29 until 7:00 p.m. on 11/8. It will ONLY be open during those times. The purpose in posting today is to allow you to discuss with your child before the link opens tomorrow. You must complete the form for each child; you cannot combine them. Thank you! (The attached link is just a PDF of the same information as the attached photo. For some people and devices, a PDF is more clear.)
https://pioneercsd-my.sharepoint.com/:b:/g/personal/kkanner_pioneerschools_org/EW7bYiiGgiVApR4OUYNexbEBruLH9XVVnhXI8P2CLFQchg?e=fZkgZh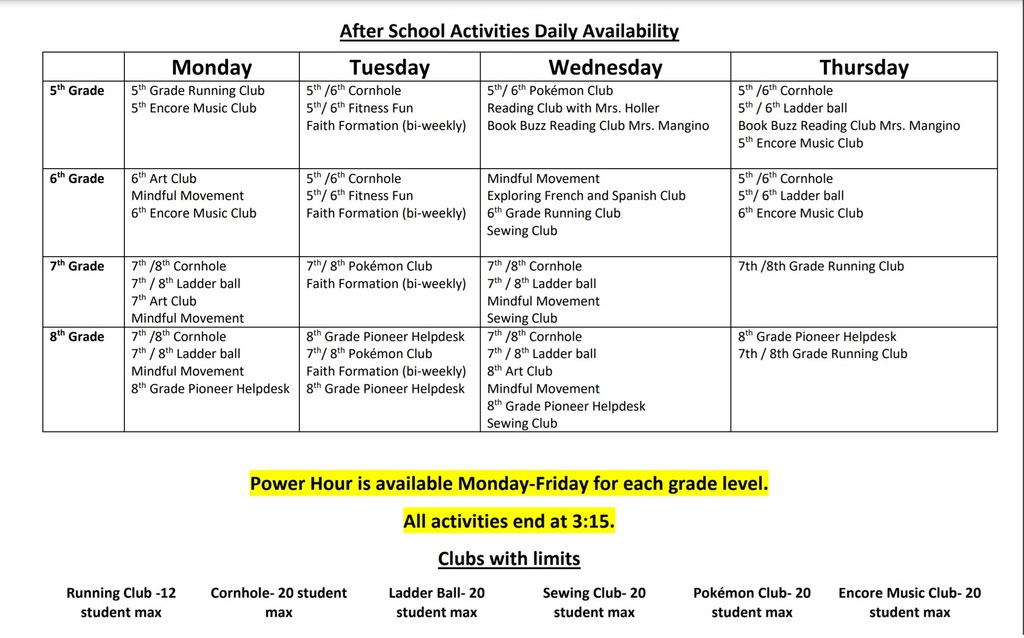 HALLOWEEN INFO: Middle School students may wear Halloween costumes to school on Friday, October 29th! We'll also have our annual costume contest during lunch. Categories are --Occupations --Creative --Celebrity/Character --Humorous --Halloween Spirit Masks may be worn for the contest, but the rest of the day masks need the teacher's permission. NO weapons (even fake ones). Costumes must be dress code appropriate. Makeup is fine IF it doesn't create a distraction (super gory, messy, and/or missing class time for constant re-application). Please remember that at this time, we can't allow treats from home to be shared with others, but we're confident everyone will make up for it with large amounts of candy over the weekend!

ATHLETICS CHANGE: The modified volleyball game originally scheduled for today at 5pm has been moved to the same time tomorrow, 10/13, at 5pm in the MS gym. @pi_one_er

Next week is Spirit Week! Monday is a day off. Check out the attachment for the day themes.
https://5il.co/10776


Important! Ms. Prorok's robocall from 9/30/21: Good evening, Pioneer Middle School families. I hope everyone is well and enjoying the fall weather. This call is to update you on our after-school bus transportation. Bus transportation continues to get better each week, but we are still not quite there. So bus transportation from after-school programs at 3:15 will begin on October 12th. Students who have a ride or can walk home at 3:15 are welcome to continue to come to after-school activities at this time. Have a great night.

PICTURE DAY INFO! Picture Day for middle schoolers is Tuesday, October 19th. Students will receive this flyer for online ordering on Monday. If you need to send cash or a check, please have your child pick up an envelope at the greeters desk.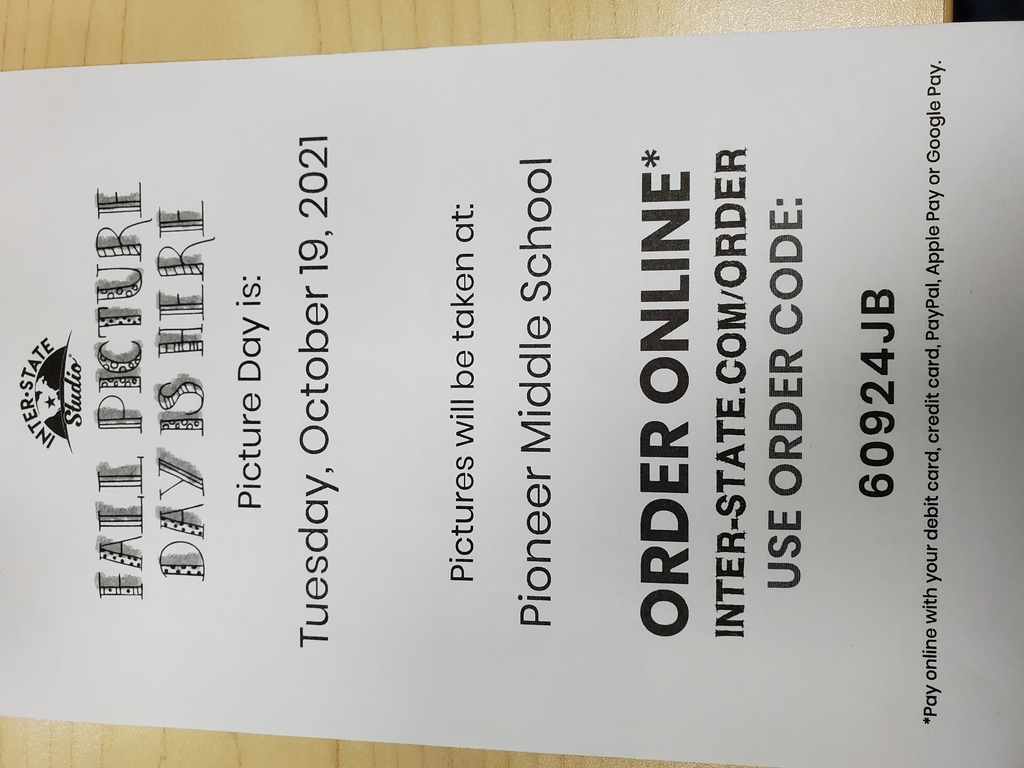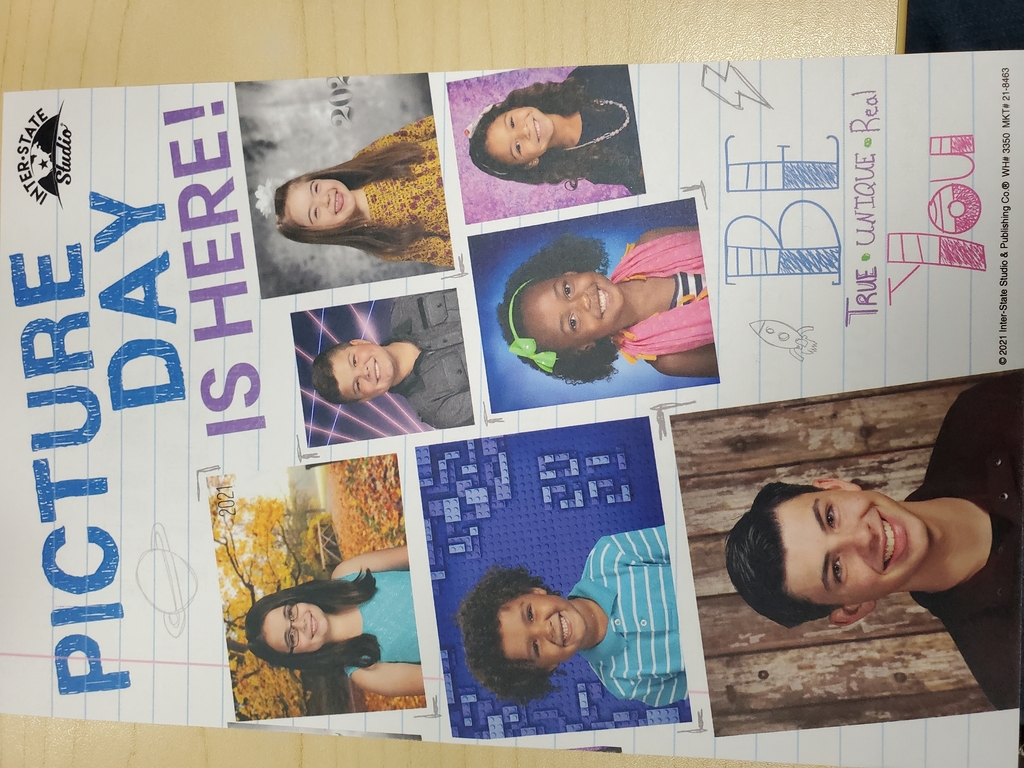 Robocall from Ms. Prorok 9/23/21: Good evening, Pioneer Middle School. This is Principal Prorok. I am calling to give you details on our after school program. Transportation is getting better, but it is still an issue. We will begin after school activities on Monday, September 27 ONLY for those students who can be picked up by a parent or guardian at 3:15. Our hope is to have the program in full operation with bus transportation within the next two weeks. I will send out another robocall next week to update you. Please be aware that today your child received a letter verifying what activities they registered for for the first quarter. Please ask them to share that with you. Thank you for everyone's patience and flexibility as we try to have our after school program up and running at 100%. Have a great night.

Attention Middle School Students! Jr FFA begins next week, but you need to pick up a permission slip at the greeters desk and bring it back before Tuesday! NOTE: Jr FFA is NOT part of the regular Middle School after school program. This group meets at the high school.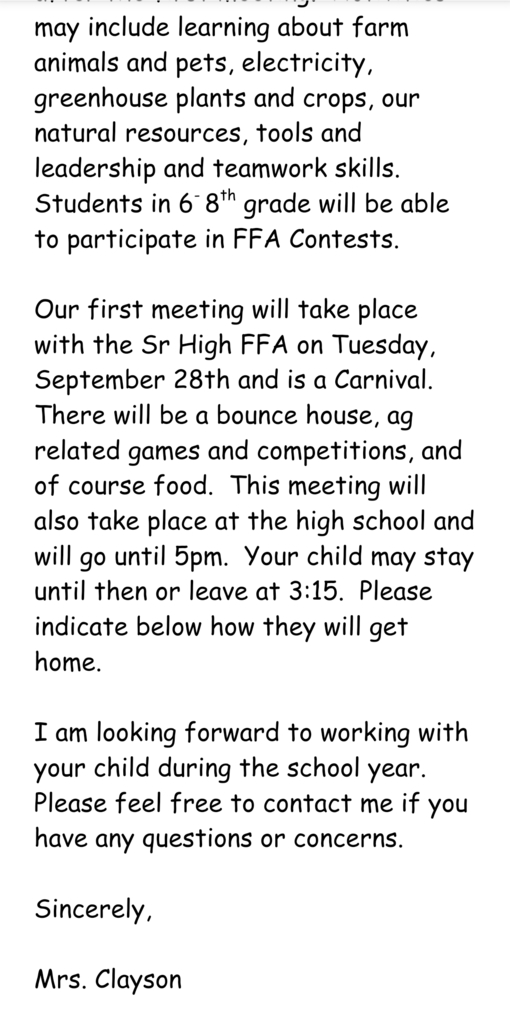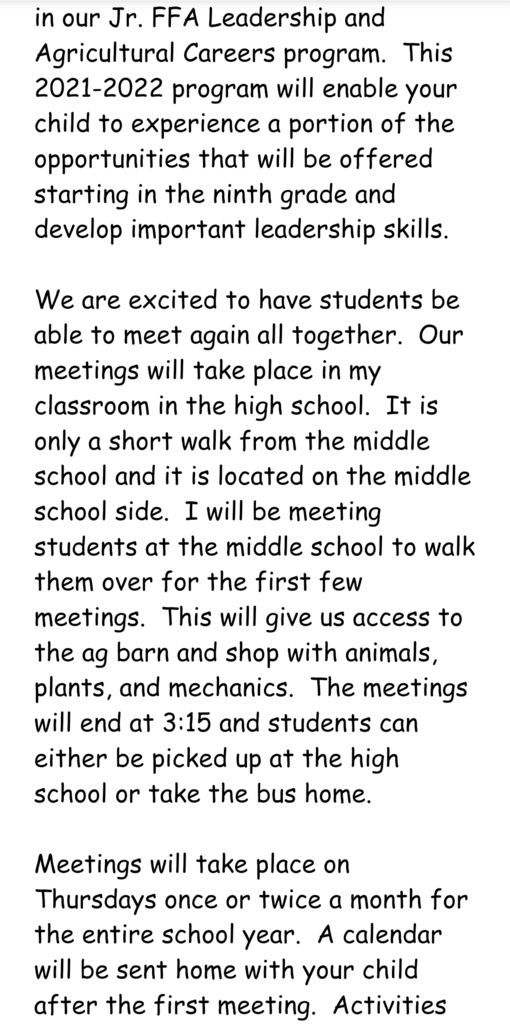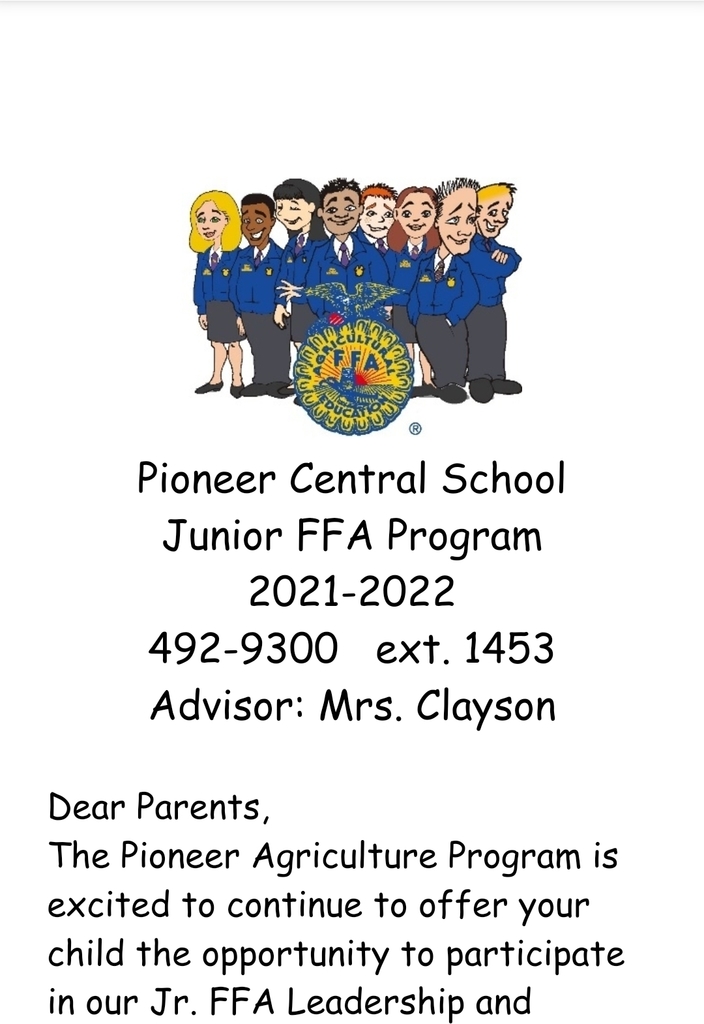 Reminder! The link to sign up for after school activities will be de-activated after school today, so make sure requests are in before 2:30 today (Wed). All activities currently end at 3:15 every day. We will inform you if we can extend them until 5, or if we add more activities. (We anticipate that Jr FFA will begin in the next few weeks, for example.) Please check back frequently, and remind students to pay attention to announcements and in lunches when they are reminded of these deadlines.

Cuteness overload! This little guy will be training as a therapy dog, and he needs a name! His mom is a therapy dog in Winter Garden, FL and his dad is a Champion Show dog in Spain. Stop in at the counseling center and leave your suggestions in the box there!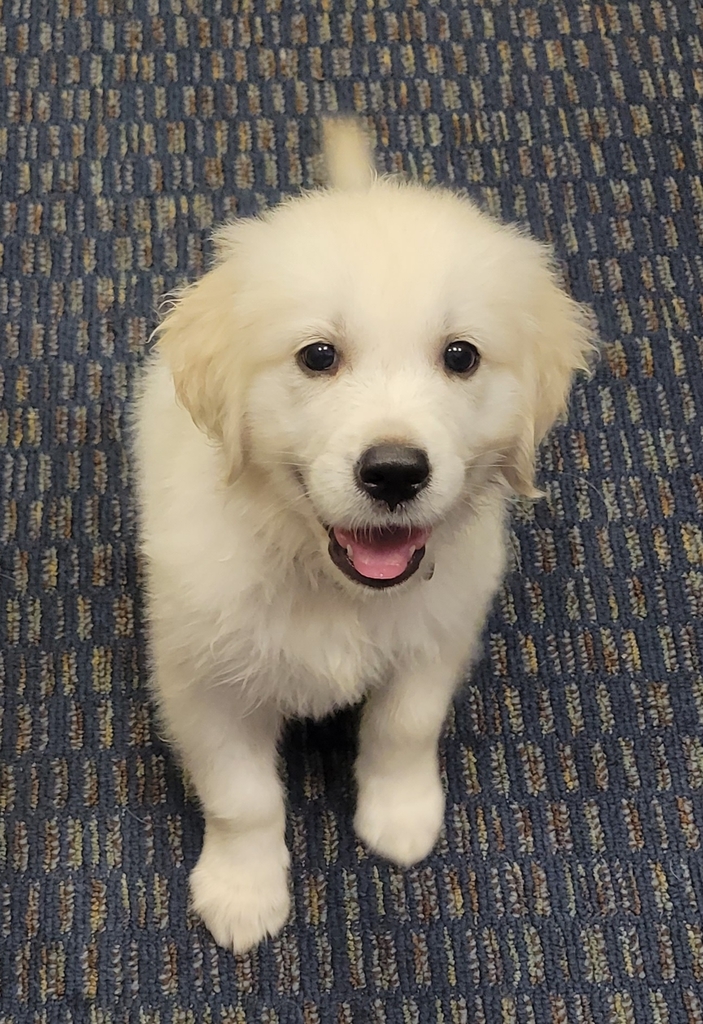 Attached is another upload of the activities list for middle school. We changed the file format so hopefully it will enlarge further from you; however, this is the same as the list you picked up at orientation. While we hope to offer Power Hour until 5pm on Tuesday and Thursday eventually, right now we are only staffed until 3:15pm. We will update if and when we are able to extend hours. Thank you!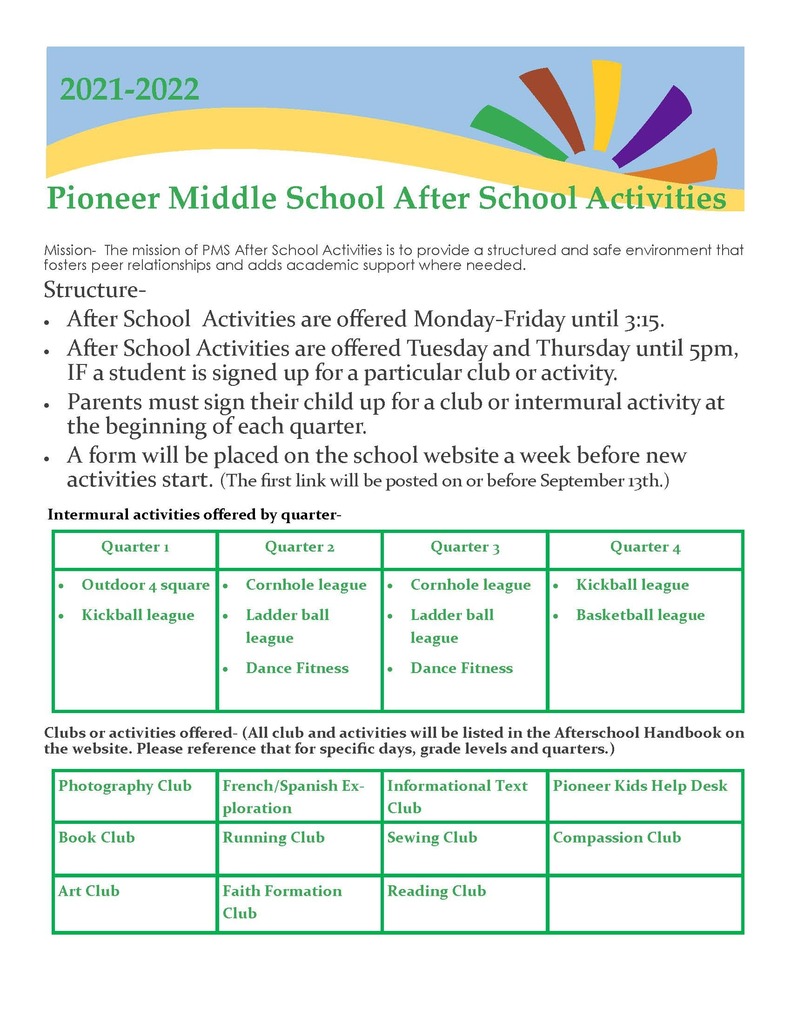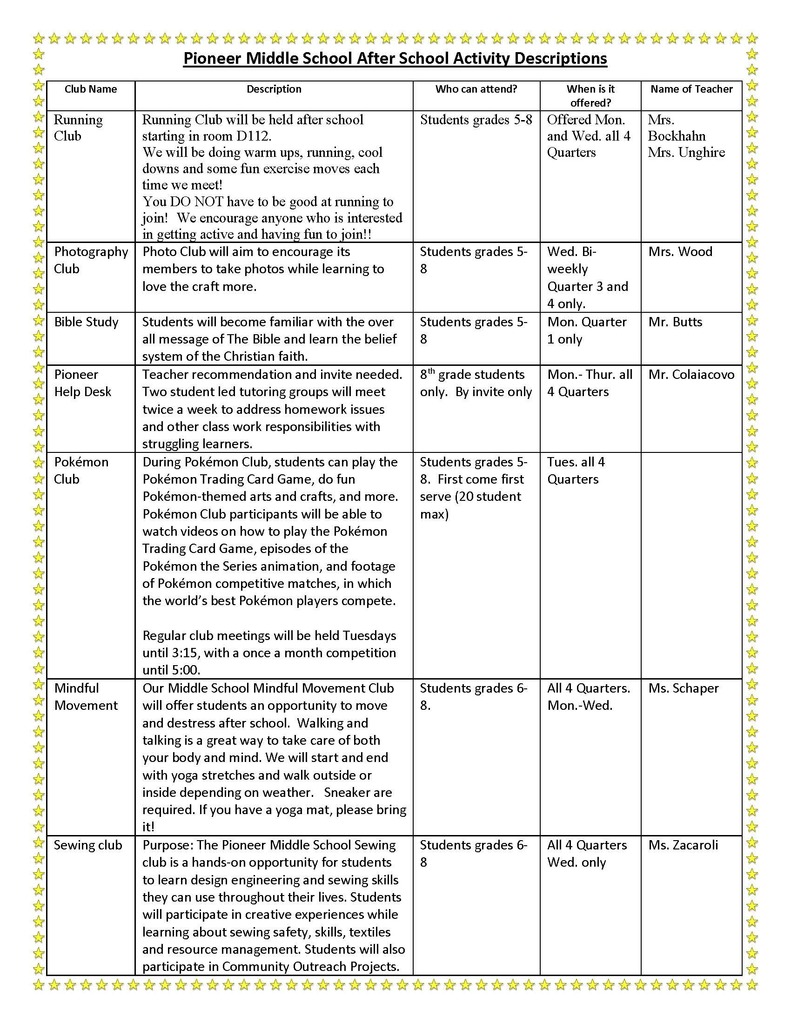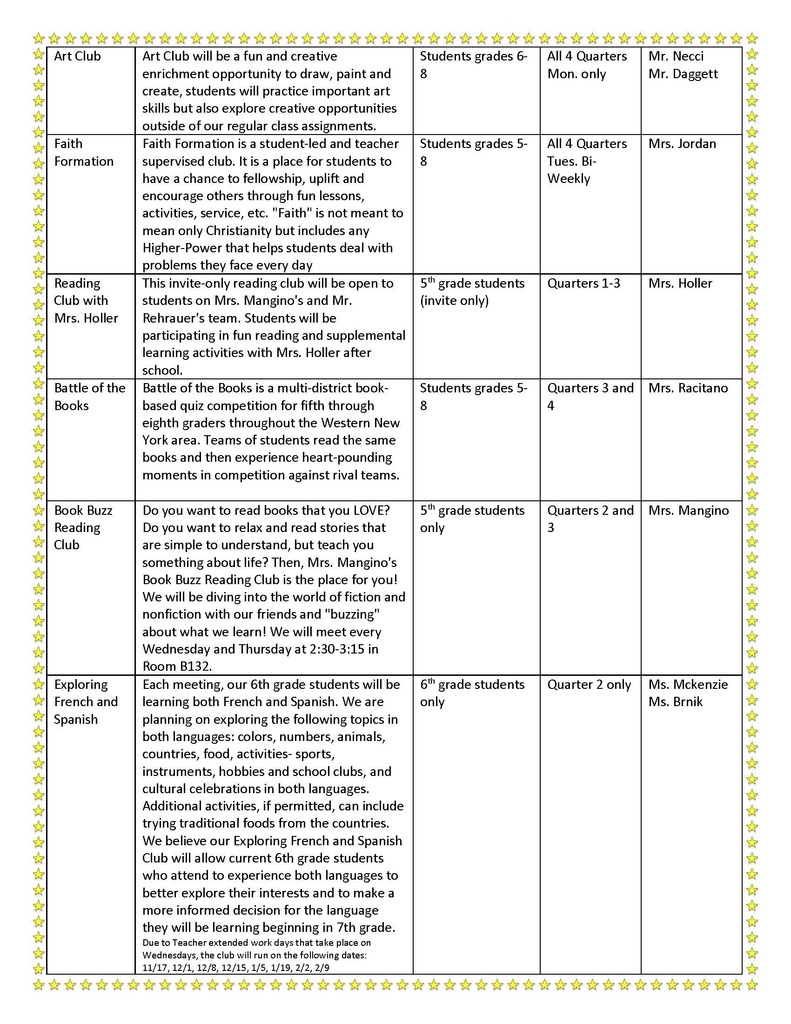 The deadline for signing up for 1st quarter after school activities is Sept 15. The link will be disabled after school that day to allow us to compile lists and assign staff. The sign up information is in the previous post, from Sept 7. Middle school after school activities begin Sept 20, and buses will be available. This is also being announced to students in school. If you miss Quarter 1, be on the lookout for Quarter 2 sign-ups in early November!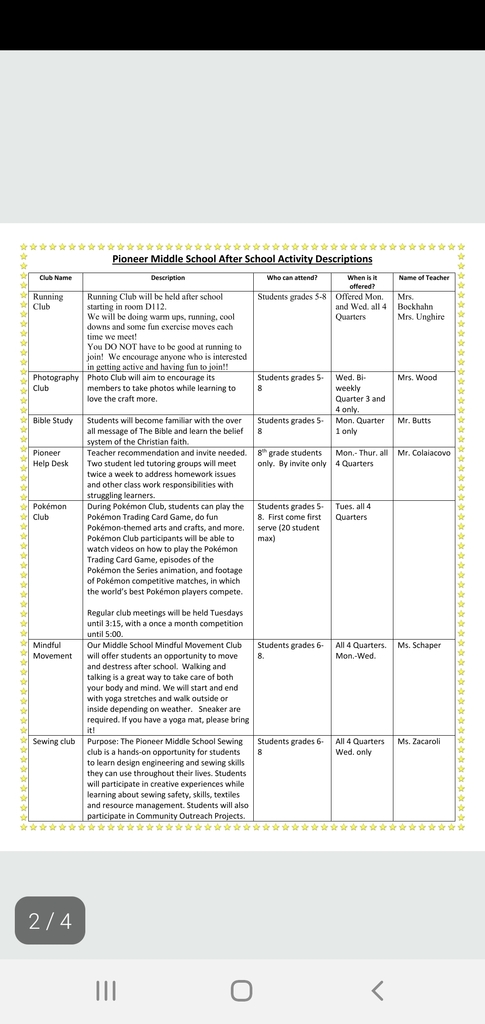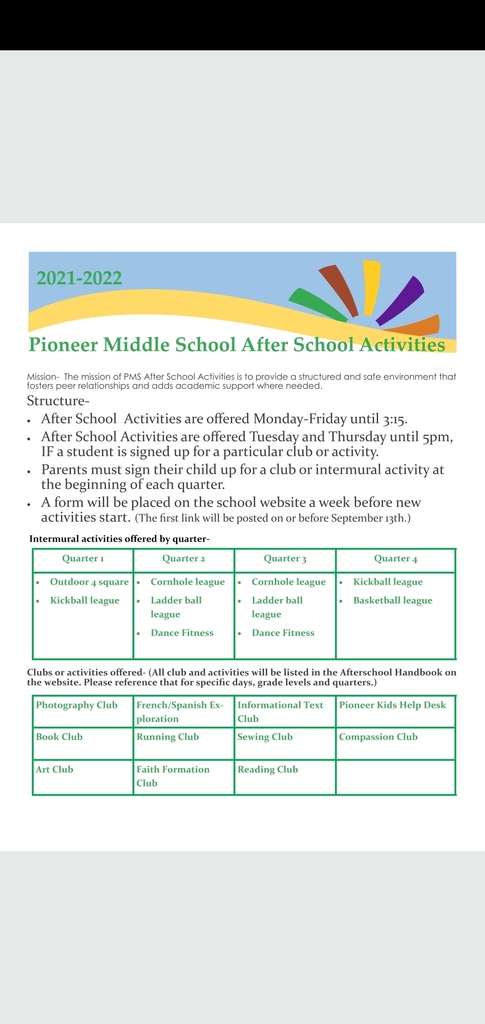 Orientation Day Reminder: Please join us Tuesday, September 7th for a brief "meet and greet" at a time between 12-3:30 or 4:30-7 that is most convenient for you. Feel free to bring in school supplies, as you will meet your homebase teacher and get your locker assignment. Full schedules will be available on our first day of classes, Wednesday, September 8th. We can't wait to see you all again!