Here's a little challenge to boost your mood!

Check out the cards our students sent to residents of The Pines! Merry Christmas, everyone! Have a safe and healthy holiday, and we'll see you in the new year!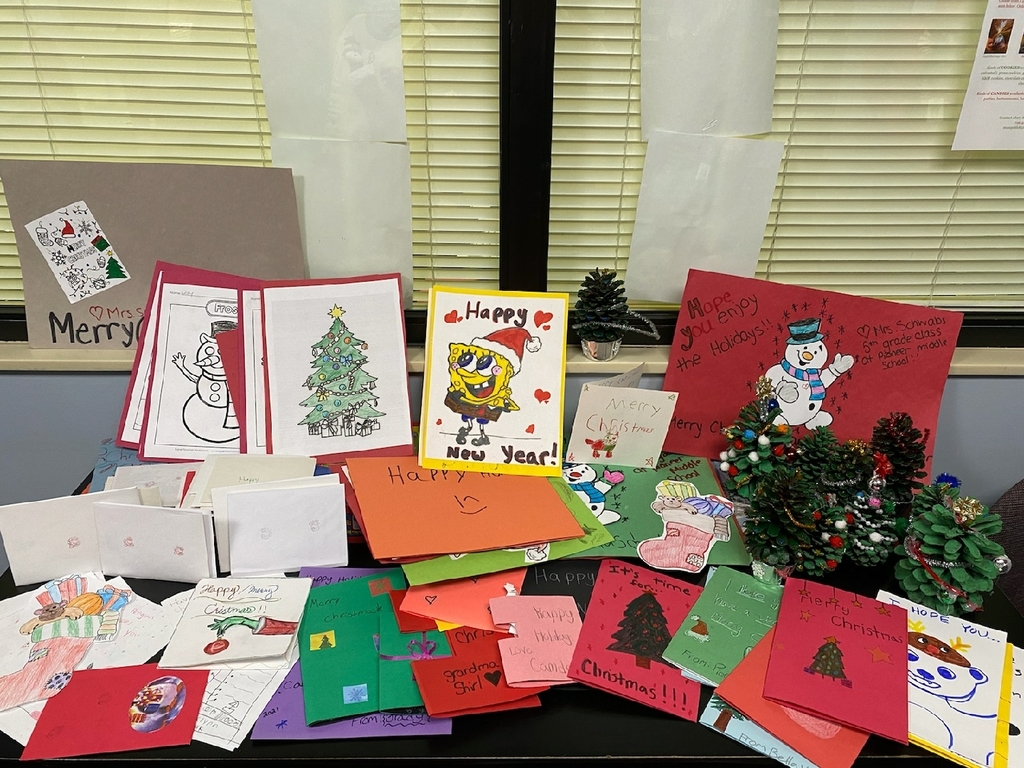 It's our Tuesday Scavenger Hunt clue! They arrive sealed up with a festive stamp, You open them up and then read under a lamp. Greetings from friends and family from all around the place, Take a pic of one that brings a smile to your face! Post your photo at flipgrid.com/pioneermiddle2020 for a chance to win a prize!

Here's your Scavenger Hunt clue for today! These are usually nice and sweet, Often served with milk - they are a tasty treat. Gingerbread and cutouts are a few different kinds, Take a photo of one of your favorite finds! Post your photo at flipgrid.com/pioneermiddle2020 for a chance to win a prize!

Santa Paws is here with another scavenger hunt clue! Big, small, square or round, A surprise under the tree until it is found. Given with lots of love and care, Take a picture of one before you rip open and tear! Post your pictures at flipgrid.com/pioneermiddle2020. Thanks for playing!

SPIRIT ALERT! In addition to wearing your holiday gear and reaching out to a remote friend, student council is also sponsoring a scavenger hunt! The first clue is: No two of these are ever the same, You check underneath to see if Santa came. Covered in lights and other bling, Take a picture of this spikey thing. If you would like to participate go to flipgrid.com/pioneermiddle2020 to join the hunt. Post a picture or video of your answer. Thanks for playing!

Spirit Week and Scavenger Hunt are here!🎄🎅🎄🎅🎄🎅🎄

Our first day of fully remote instruction is off and running! Remember, students should be interacting with every class each day--whether it's on a Zoom, chatting or calling your teacher, or simply viewing and completing assignments. No students are expected to be on live all day, and no Zoom meetings are required for a grade--they'll be posted later so you can access at other times. Following your bell schedule is a good way to stay organized, but if you cannot do that, just make sure you are in touch with your teachers! Please, if you have questions, contact your teachers directly. They cannot assist you when they don't know your questions or unique circumstances. We hope to be back in person on December 14th, and you'll want to keep up so we can continue moving forward!

Reminder to students: While we are all remote, follow your bell schedule to stay on top of work! (Schedules were mailed home last week.) If there is no live instruction for a class (or if you can't access it at that time), just work on the posted work for that subject and/or contact your teacher to check in and get assistance. Make sure you check your TEAMS daily and reply to messages from teachers. Let's stay on track while we are all remote! If you have questions, please contact your teachers or the school directly.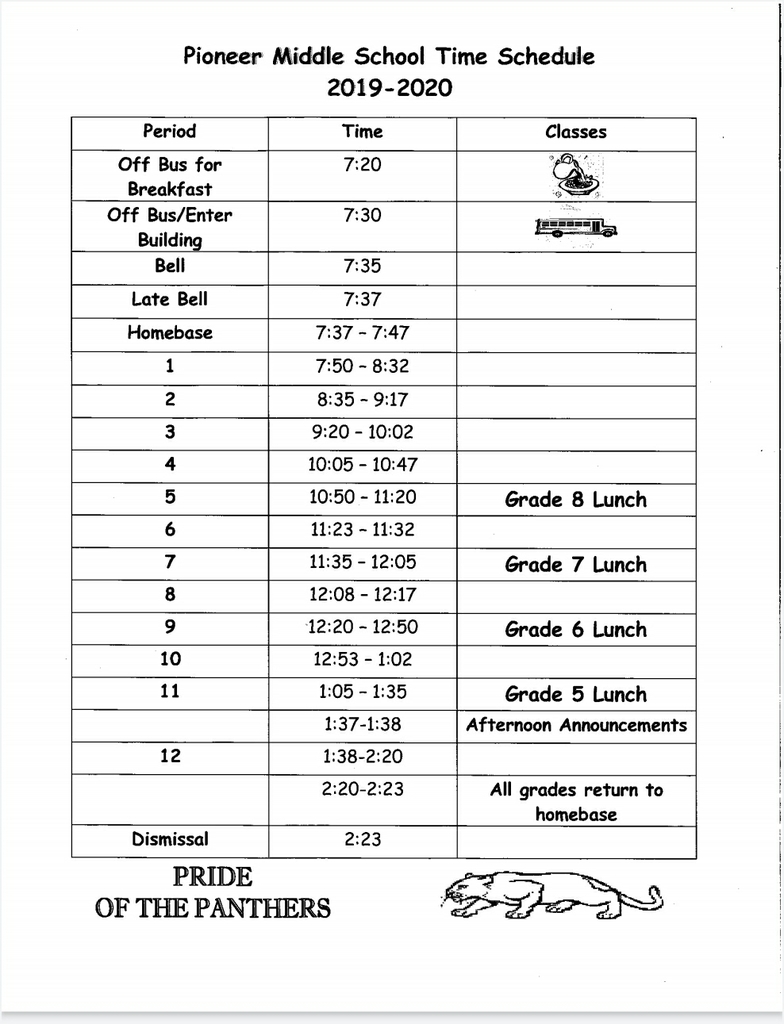 CALENDAR UPDATE! There is NO SCHOOL for students next Tuesday, November 24th. This is for parent-teacher conferences, and students will NOT attend in person or remotely.

VIRTUAL HOMEWORK HELP IS HERE!!!!

PICTURE INFO for 100% remote students and hybrid students who were absent or need retakes. Please call the office with any questions.

NOTICE FROM ARCADE ELECTRIC. We just saw these, regarding electric service on Thursday and Friday. On Tuesday, teachers will encourage and assist students in downloading necessary work, as well as planning to work more on the days not affected by this outage. Parents, please discuss with your students as well, if your internet with be affected by these planned outages.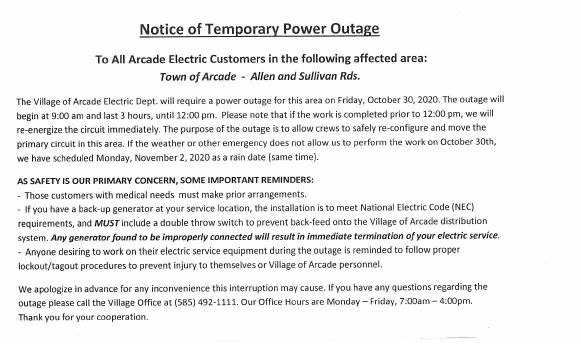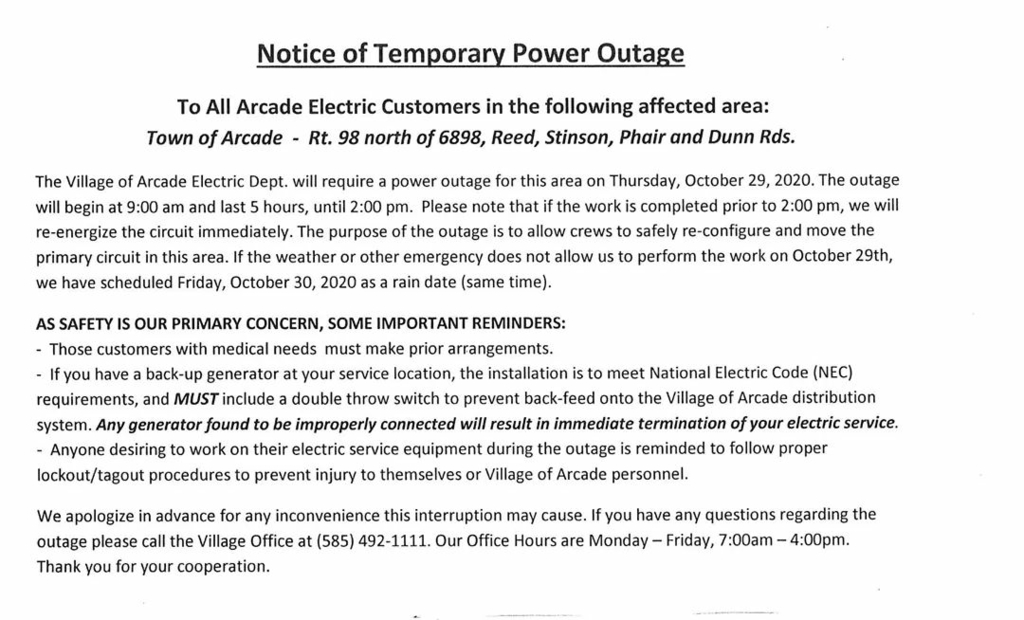 Spooky Spirit Week News! Show your spirit each day next week, no matter where you are! You can participate from home by sending pictures to our Facebook page or emailing them to AP Slocum at
kslocum@pioneerschools.org
. We can't wait to see your costumes!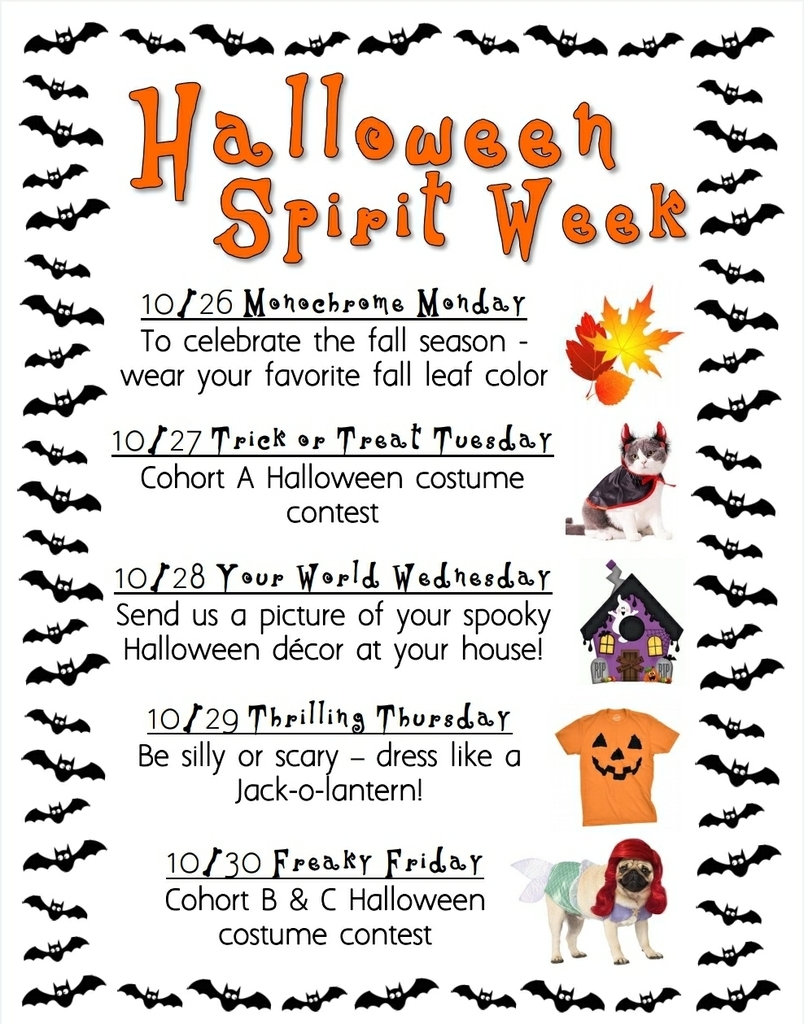 Remote learning has vastly increased the amount of text/chat/email communication our students use to connect with teachers and other adults, but most of us--parents and teachers alike--haven't spent much time showing them how to do so appropriately. Sometimes, this can lead to confusion or misunderstandings, but done well, it brings connection and clarity. Together, we can use this opportunity as a way of teaching our kids an important skill that educators, employers, and other community members are seeing on the decline. Here's one simple graphic that shows us how to structure an email. Usually, we would skip steps 1 and 5 if you were sending a chat. Stay tuned for more examples and tips about good digital communication!

WELLNESS CHALLENGE ALERT! Breakfast is an important part of your day! Watch the video below, and then send us a picture of YOUR healthy breakfast for a chance to win! You can post or send to our Facebook page or in a chat to Mrs. Zacaroli. One randomly-drawn winner from each grade level will win a Tim Horton's card. (Yes, you CAN find healthy choices anywhere if you look for them!) Enter as many times as you like, and help your grade win the MOST challenges this year! This challenge ends at 2:30 p.m. on October 31st. Happy breakfast-ing!
https://youtu.be/UEQwTyQxejc


A message from Ms. Prorok: A letter is being mailed home explaining the importance of remote learning while not at school. Please work with your child to develop a schedule to complete work daily when remote. If students are not attempting to do the work remotely and not in communication with teachers to get assistance if needed, they will be marked "remote absent" and could receive a zero for missing work. Please partner with us as we work to make this challenging year a positive learning experience for our students.

GOOD MORNING, Pioneer Middle School! Please make sure that you are in communication with your teachers today if you have questions or concerns. Your teachers have office hours and/or Zoom meetings so they can help! Please also look at your chats on Teams. These are not intended for socializing with friends, and many of you have so many chats that you may be missing important ones from your teachers. Teachers are trying to contact students who have not turned in work or whose work needed revision, and they are not hearing back from you, so please check! If you are having tech issues, use the SysAid app on your home screen, email
techsupport@pioneerschools.org
, or call 716-492-9330 and leave a message. Leave your name and contact information, and make sure your voicemail works. We are working hard to get into the groove, and we can see that you are, too. We are constantly evaluating and adjusting to try to make a difficult situation workable, and we appreciate all of your support. Work hard, persevere, be kind...and have a fantastic day! 💚🤍💚🤍💚