As the school year comes to an end, Pioneer FFA members joined over 2,000 agriculture students, teachers, and guests in Syracuse for the 97th New York FFA Convention.
Starting May 12, 25 students from Pioneer attended convention in Syracuse. This is the first time since 2019 that the convention was in-person. Members competed in such events as Veterinary Science, Agriculture Mechanics, Conduct of Chapter Meeting, Parliamentary Procedure, Quiz Bowl, Tool ID, Marketing Plan, Agricultural Sales, junior Creed, junior People in Agriculture and senior People in Agriculture. FFA members spent the weeks prior to the convention organizing, preparing, and practicing for the competitions.
ABOVE: Seth Higgins and Conner Woloszyn receive the State Empire degree, the highest state honor a member can receive. They are joined by FFA advisors Jon Clayson and Kelsey O'Hare.
FFA members competed in a variety of career and leadership development events. Michael Jewart placed first in senior People in Agriculture. In Agricultural Mechanics, Pioneer's Conner Woloszyn placed third, and Seth Higgins placed seventh individually. In Agriculture Sales, Karlie Putt placed fourth overall and Jake McCormick placed tenth. The Parliamentary procedure team placed third respectfully.
While at the convention, students participated in workshops, motivational sessions and award ceremonies. Seth Higgins and Conner Woloszyn were on hand to receive the State Empire Degree, which is the highest award a member can receive on the state level. The trip was a success and members were happy to be back in person with FFA members from across the state.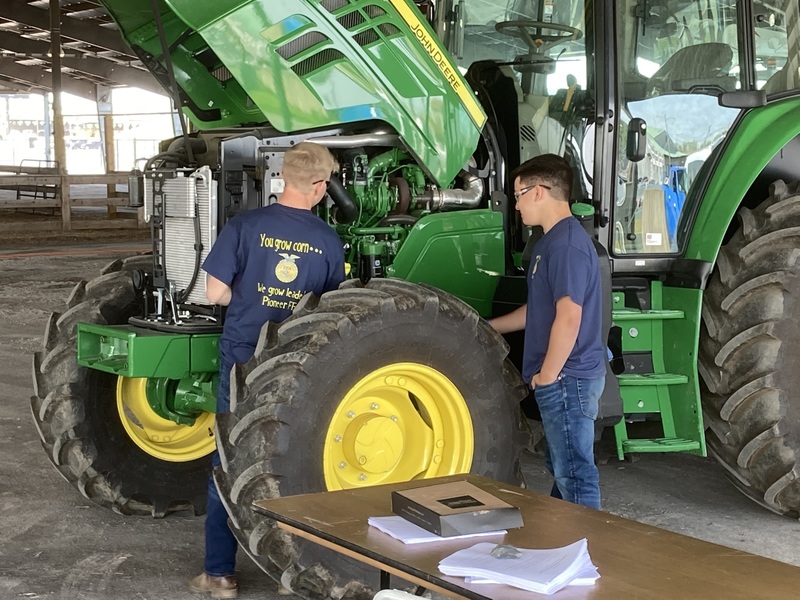 ABOVE: Seth Higgins and Jeremy Hibsch compete in the Ag Mechanics contest