For the first time in 2-1/2 years, the Pioneer High School chapter of the National Honor Society held a public induction ceremony, adding 48 new members.
New inductees included members who were to be inducted in 2021 and the new round of inductees for 2022. The last time the NHS held a ceremony was Dec. 16, 2019. Last year's induction was cancelled due to Covid-19.
Membership in the National Honor Society is one of the highest honors that can be awarded to a high school student. The Pioneer NHS chapter strives to give practical meaning to the society's standards of scholarship, service, leadership, and character.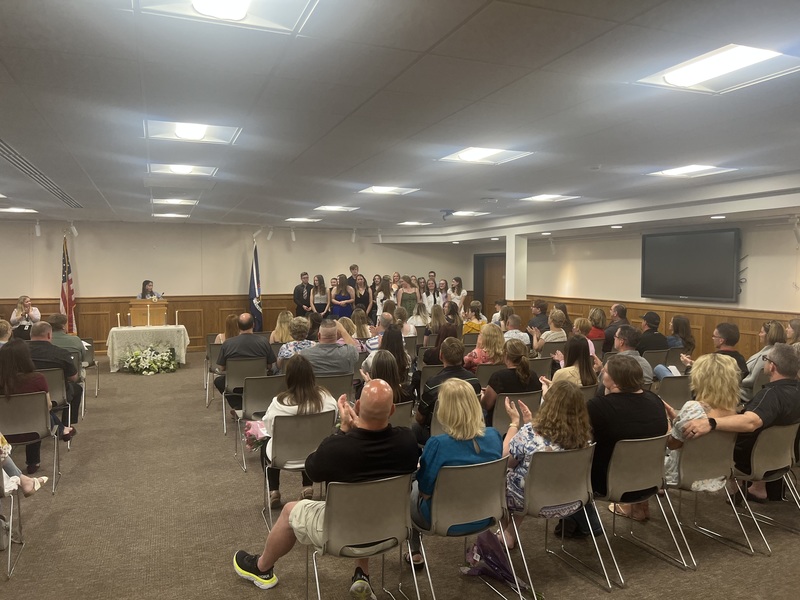 ABOVE: Newly minted members of the National Honor Society are applauded for their achievements.
Faculty advisors of the NHS are Brooke Neamon and Stephanie Hogan. Officers include Sophia Kehl (president), Faith Ruppert (vice president), Chloe McCutcheon (secretary), Chloe Raiber (treasurer), and Sidney Reed (historian).
The 2021 inductees:
AIDAN AMEIS
WALKER BEKIEL
BRITTANY BLISS
ALYSSA BOLDT
JAMES CARMODY
JORDAN DODGE
HANNAH DRENNAN
BROOKE EASTMAN
KYLER FELBER
OLIVIA GEORGE
VANESSA GIBOO
SETH HIGGINS
ELLIANNA LANG
SAVANNAH LINGLE
ARIANNA MARTZ
LILLIAN MILLIGAN
LAUREN MURRAY
SHAYLYN OWENS
VINCENT PAULSEN
KAILEY PLACE
CHLOE RAIBER
SIDNEY REED
HEIDI SCHALBERG
BENJAMIN SHEPHARD
ELIZABETH STAHL
ANDREA TINGUE
SYDNEY WILTON
JACKSON WOOLLEY
The 2022 inductees:
ASHLEY BLISS
RILEY BLISS
McKENZIE HUNTSBERGER
DYLAN HUTCHINSON
THERESA KOLASNY
MADDIE KOZIOL
McKENZIE MARCHESON
CAMERON MARRS
MESSINA MAUL
MORGAN MUCHA
LOGAN PAPKE
MADALYNN PATAYE
CHLOE PHETTEPLACE
COLE RHODUS
EVELYN SALZLER
LANDON SCHULTZ
SAMANTHA SHAVER
OLIVIA STROMECKI
KEZRAH TATAR
ADDISON VACINEK