Pioneer High School senior Maddie Matuszak has announced that she has committed to play collegiate soccer at Hilbert College this coming fall. Maddie's decision comes after a standout, three-year career as part of Pioneer's Girls Varsity Soccer Program.
For Maddie, the decision represented an opportunity to continue pursuing her passion.
"Soccer means everything to me, and I couldn't imagine not playing, it's just part of who I am," Maddie said. "That's what made my decision to continue at Hilbert such an easy one."
Maddie's career at Pioneer finished with a strong senior season. Serving as one of the team's three captains, she played a vital role in leading the team to an 11-6-1 record overall, with an 8-2 mark within its division. Maddie finished second on the team in goals (9) and points (23), and third in assists (5). For her efforts, Maddie earned Second-Team All ECIC III honors at the conclusion of the season.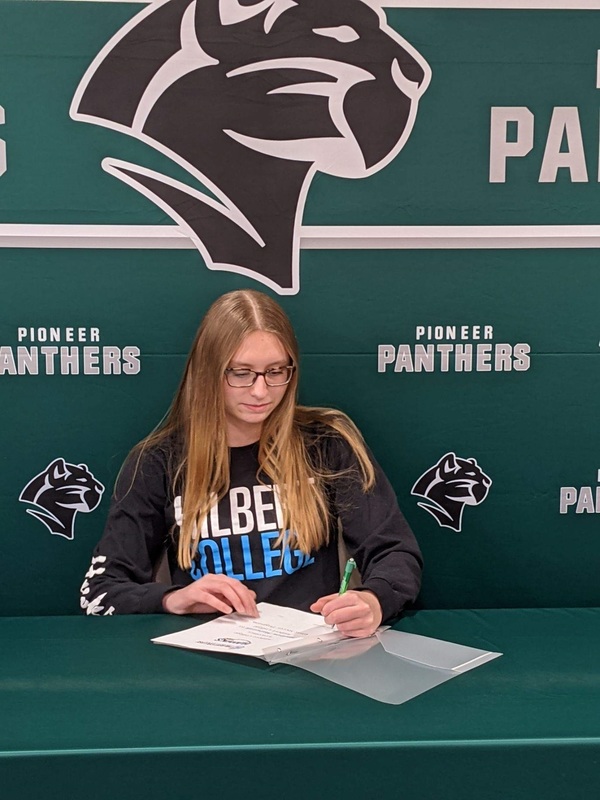 ABOVE: Maddie Matuszak inks her letter of commitment for Hilbert College.
Maddie's mother, Jennifer, is thrilled to see her daughter's athletic journey continue at the collegiate level.
"As a parent, I am so incredibly proud of the amazing person that Madison has become," Ms. Matuszak said. "She has a kind heart, a true passion for soccer and an incredible work ethic both on and off the field. I couldn't be more excited for her to continue her journey as a student athlete at Hilbert."
Maddie's coach over the last three seasons, Tim Hirschbeck, echoed a similar sentiment.
"I really enjoyed being Maddie's coach over the last three years. Her versatility, athleticism, and humility made her an asset to each team she was on, and Hilbert will be similarly fortunate to have her," Mr. Hirschbeck said. "I can't wait to follow her career at the next level."
The program that is fortunate to have drawn Maddie's interest is also excited about her pending arrival.
"We at Hilbert are extremely excited for Maddie to be joining our soccer family for her next great adventure," said Hilbert's Head Women's Soccer Coach Scott MacLean. "Maddie is an individual who has worked and cultivated key principles and values that are necessary for life-long successes as a player, academic, and as a person. That foundation will certainly serve her very well both on and off the field moving forward."
Congratulations to Maddie and the entire Matuszak Family!