It has been another great season for the Pioneer Panthers, and for one player in particular, a year of supporting others.
Luke Matheis of Curriers, a junior who wrestles and plays football, has been raising money for veterans and in memory of his late uncle, Scott Woolley. In addition, Luke is honoring the legacy of Elmer Wienclawski, grandfather of both JV football coach Ian Wienclawski and varsity coach Jim Duprey. The older Mr. Wienclawski died recently at age 102, having served his country in World War II.
Earlier this year, Luke started his meat animal project and decided he wanted to donate proceeds to the Veterans Administration Hospital in Batavia in tribute to his uncle. Not only was Luke's 4-H project wildly successful, but additional fund-raisers such as a T-shirt sale also helped bolster the final tally.
Luke's various projects gained many supporters, and on Oct. 17, he was able to present the VA with a check of $6,800.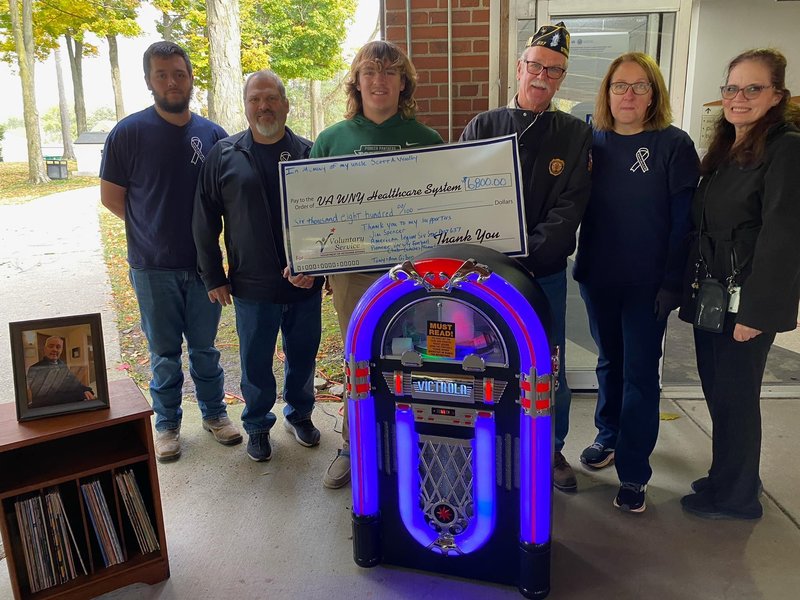 ABOVE: Luke with his donations to VA/WNY Heathcare System.
Luke's donation also included a cool jukebox that family members say Scott Woolley would have loved.
Luke's mother, Tracy Woolley Matheis, said on Facebook "Thank you to all of you that have cried, laughed and hugged us along the way. Shout out to the American Legion Six Star Post 637 (in Strykersville), Jim Spencer (for buying Luke's market hog), Pioneer Panthers football, the coaches and all of Luke's teammates and families who bought T-shirts, and Tony and Ann Giboo."