For the faculty and staff of Pioneer Central School, the summer is over and the school year is under way, and the path is clear for students to return next week.
At a gathering on Sept. 1 in the high school auditorium, Pioneer faculty and staff were introduced to more than 30 new faces. Among the new staff, Interim Superintendent Dennis Ford added his welcome and shared his perspective.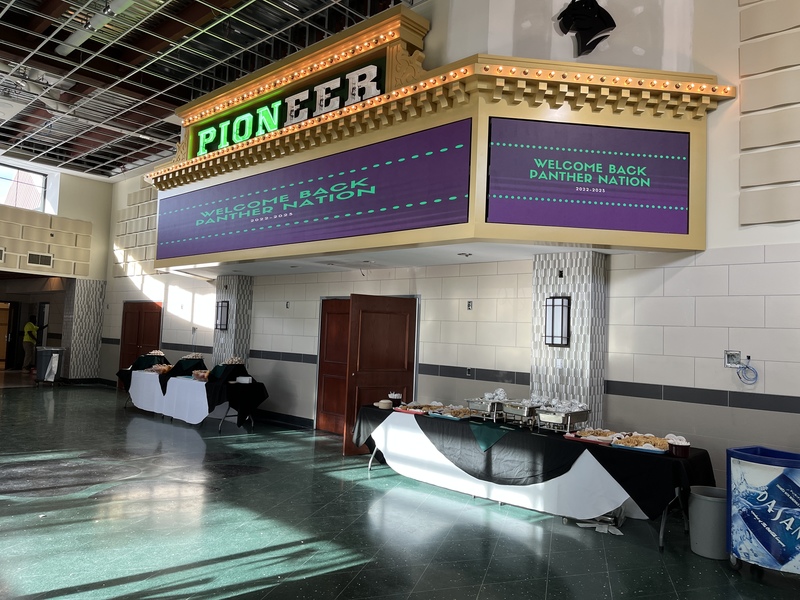 ABOVE: The new marquee outside George C. Crawford Auditorium greeted Pioneer staff.
Mr. Ford acknowledged not only the many new staff, but the administrative openings that will need to be filled in the coming months. Carol Townsend is the interim high school principal, and Kevin Munro will be the interim Delevan Elementary principal when Tiffany Giannicchi leaves Sept. 25 to become an assistant superintendent at Salamanca.
Two key dates are next week. Parent-Student Orientation is Wednesday, Sept. 7, and the First Day of Classes is Thursday, Sept. 8.
Mr. Ford stressed the need to work together during this time of transition. He said the school board is just beginning the process of hiring a new superintendent, with a goal of having stakeholder input throughout.
Director of Buildings & Grounds/Maintenance Nick Titus provided an update on renovations, including the high school entrance and roof, removal of asbestos tile at Arcade, and the renovation of the library media center at Pioneer Middle School. Though construction will continue, facilities will be safe and ready for the return of students.
Have a great 2022-23!