Pioneer is in its 15th year of providing a Universal Pre-kindergarten (UPK) program, providing vital social, emotional and academic skills to aid in development.
During the Pioneer Board of Education regular meeting on March 15, the board heard a presentation on UPK by elementary principals Tiffany Giannicchi (Delevan) and Mellisa Devitt (Arcade). Each of the schools has three classrooms of 18 to 20 students each, and Early Bird Childcare Center hosts a classroom.
Mrs. Devitt said the focus of UPK the last several years has been the transition from half-day to full-day.
UPK is grant-funded, with $497,513 annually from the Universal Pre-K grant and $392,889 from the state Universal Full Day Prekindergarten program. Ten percent of the funding is allocated to Early Bird.
The principals explained that UPK is maintained through several quality assurance protocols. These include:
Budget/ Proposed Expenditures
Programmatic Oversight and Fiscal Management
Facility Quality
Teaching Staff Qualifications, Performance, and Professional Learning
Child Eligibility, Screening, Progress Monitoring, and Outcomes
Nutrition, Health, and Well-being
Learning Environment and Curriculum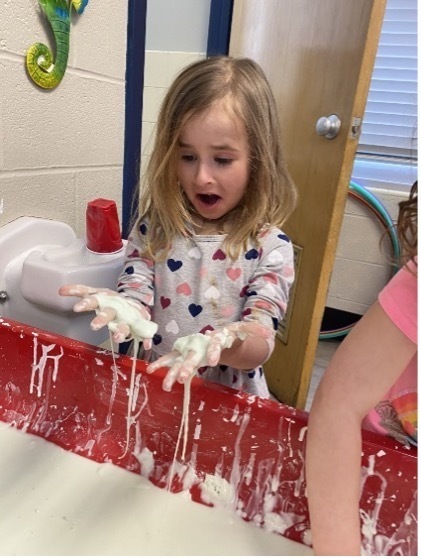 ABOVE: Play is an important part of UPK learning.
UPK can have an impact on several areas of child development, such as social and emotional learning, communication and language, cognition and knowledge of the world, physical development and health, and approaches to learning.
Mrs. Devitt and Mrs. Giannicchi said UPK stresses learning centers as part of its approach to education. Children are actively learning when they explore, discover, investigate, role play, and use tools and materials in creative ways.
UPK programs typically feature play-focused learning centers such as:
Blocks/Building
Dramatic/Imaginative play
Literacy
Creative Art
Math
Sensory
Science and Discovery
Writing
Mrs. Giannicchi and Mrs. Devitt shared an example of the UPK daily schedule, which incorporates specials such as gym, art, music and library into the routine.