Inside the air-conditioned comfort of George C. Crawford Auditorium, the Pioneer High School Class of 2021 enjoyed its last hurrah before an adoring crowd of families and friends.
Commencement was held Saturday, June 26. Plans for a ceremony on the Memorial Field were scrapped when the state loosened Covid-19 guidelines for large gatherings.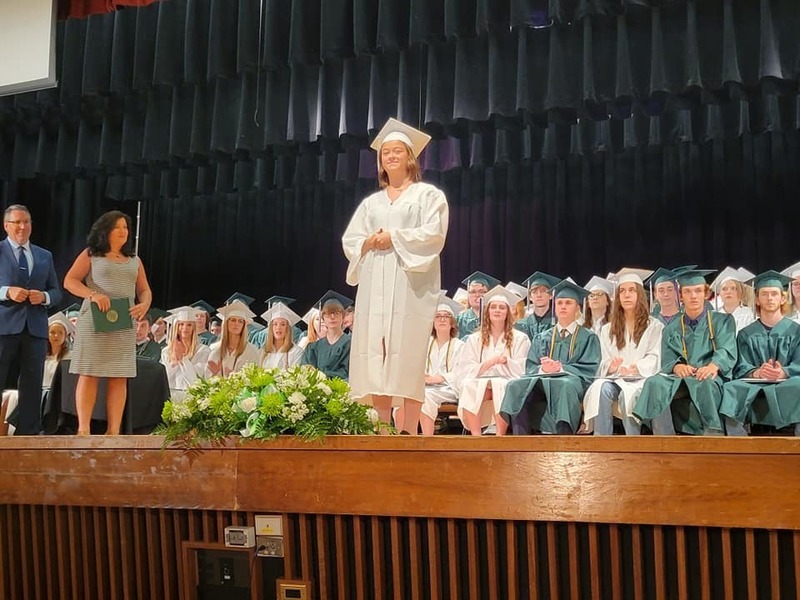 ABOVE: Bailey Weaver acknowledges the cheers upon receiving her diploma.
This year marked a return to a 'traditional' commencement following a drive-through diploma presentation for the Class of 2020.
After a welcome the Class of 2021 from principal Mark Schultz, superintendent Ben Halsey also offered his appreciation for the graduates for persevering through challenging times.
Also addressing the gathering were class president Marley Fuller, salutatorian Nicholas Tillinghast, and valedictorian Cheyenne Titus.
The Class of 2021:
Joseph Abbinanti, Aiden Addesa, Meg Albino, Emma Barkley, Haily Barvian, Jordon Becker, Terrance Blankenberg, Harmony Booth, Jade Brown, Roberta Burgess, Jillian Byers, Jeremy Campbell, Devin Card, Allison Chitty, Madyson Clayton, Tyler Cockle, Hailey Cooper, Haley Czora, Kaylee Davidson, Chloe Devitt, Deanna Draper, Matthew Duttry, Harley Ersing, LarissaFalcone, Marissa Fontaine, Jett Forward, Marley Fuller, Peter Galioto, Cayla Gannon, Louis Gasbarrini, Gaven George, Michelle George, Alexander Gonser, McKenna Goodemote, Nickolas Green, Justin Halford, Bethany Haynes, Bryce Hediger, Cole Hewitt, Owen Hill, Connor Hitchcock, Theodore Hobin, Emrey Holland, Mackenzey Holmes, Jayden Howard, Trevor Hulton, McGuire Insley, Kadence Isaacs, Leah Johnson, Marshall Jordan, Alyssa Kaczmarek, Kaleb Keith, Hanna Kessler, Dylan King, Jordan King, Caitlin Kingsland, Shelby Kinnaird, Alexandra Kirsch, Ean Kless, Gracie Kless, Brody Klink, Allison Kopinski, Chloe Kotlowski, Isabelle Kozak, Alexis Kozmycz, Kaylee Lacy, Talon Lake, Hannah LaScala, Dietrich Latham, Kaden Lavery, Desmond Lilley, Charlie Logel, Drew Lund, Nicholas Lund, Alyssa Marand, Donald Mason, Aiden McCarthy, Brennon McCormick, Leah McElheny, Haley McGranor, Alyssa Meyer, Caleb Meyers, Alexander Miley, Caleb Morales, Blaine Morgan, RileyMrowczynski, Cameron Murphy, Linsey Newland, Mark Nickerson, Ava Niclo, Austin Noel, Breanna Persutti, Kati Platt, Logan Poleon, Brooke Puffer, Ryan Pulvino, Jasper Rak, Courtney Ras, Madison Reisdorf, Wyatt Reynolds, Alexis Rigerman, Samantha Riley, Kameron Riordan, Alyssa Roblee, Dylan Romance, Kiersten Ruger, Fred Rung, Zachary Russell, John Sadowski, Alexander Schenk, Hunter Schmidt, Bryce Schoepflin, Cody Scholl, Mackenzie Schrimmel, Evelyn Schrock, Nathaniel Schwartz, Cheyenne Schweickert, Aaron Shaver, Mitchell Sheehan, Cameron Smith, Garett Smith, Kolden Smith, Madison Snayczuk, Rob Snyder, Ryan Snyder, Alexander Sparceno, Ryan Spencer, Bradley Steffenhagen, Evelyn Steiner, Joseph Stover, Haley Strycharz, Teara Tatko, Alexander Tedesco, Emma Tillinghast, Nicholas Tillinghast, Paige Tittel, Cheyenne Titus, Gabrielle VanSlyke, Cameron Vazquez, Makenzie Vinson, Andrew Wagner, Holly Wagner, Charla Walsh, Ryan Ward, Wyatt Wawro, Bailey Weaver, Jesse Weichmann, Allie Welch, Chase Williams, Grant Wright II, Ty Zepp.