Pioneer School District's Athletics Department would like to thank all of the coaches, athletes, volunteers, and support staff for a job well done in 2020-21.
Athletic Director William Weidner said we can all celebrate a successful Spring 2021 season. "Completing this season was another essential step for the continued growth and development of our athletes. More importantly, it was beneficial for their mental health and well-being. Without each of the groups mentioned above, none of it would be possible.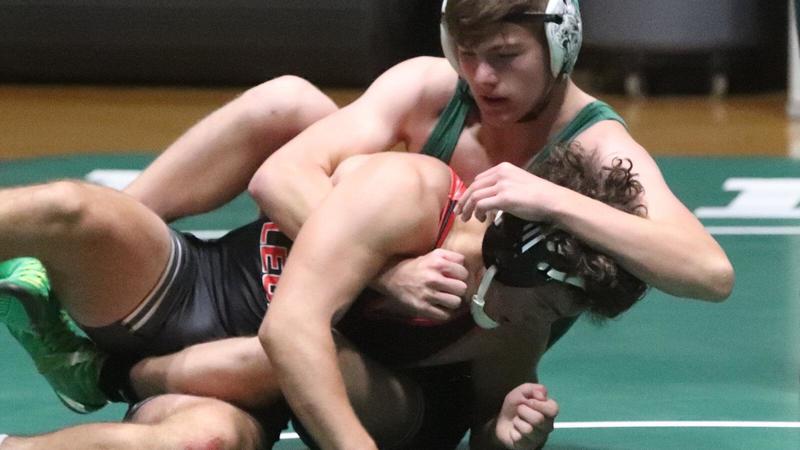 ABOVE: Senior Alex Miley wrapped up his career on a winning note.
Here are some of the highlights from the spring sports season:
Coach Chris Edwards and his wrestlers travelled all over WNY (782 miles) and went undefeated with a record of 7-0. This includes a victory over Falconer, last year's State champions.
On Saturday, June 19, in our home gym, in front of a raucous crowd, the Panthers won the Section VI Div. II team championship behind 11 placers and three champs. The individual champions were Dan Kirsch, Kam Riordan and Alex Miley. A huge shout out to coaches Edwards, Pukalo and Weidemann for making the Sectional event such a big success.
Boys tennis also had a great season, finishing in second place in their division with a 6-2 league record. Bryce Schoepflin, Nate Schwartz and Zack Russell competed in the tennis championships at Sweet Home last week.
Both boys and girls track teams finished with a winning league record, while placing eight girls and 14 boys in the Class "A" Sectionals, which was hosted by Pioneer. A special thanks to Coach Duprey, Coach Doud, Nicholas Titus, Joellen Morey, Bob Schooley, Jennifer Matuszak, Skip Tillinghast, Kip Palmateer, SRO Joe Miller and the grounds crew for making this such a great event. Just like with the Wrestling Championships, spectators were allowed to enjoy the competition. The boys team took 3rd place in the Class A Sectionals while the girls team took 6th place. Joe Stover, Walker Bekiel, Nick Green, Ryan Karp, Justin Halford, Brooklyn Lazarz, Brooke Dawley, Kevina Drennan, Hailey Andrews, Madison Snayczuk, Madison Matuszak, and Alyssa Roblee will all be moving on and competing in the overall Sectional Championships being held at Falconer High School on Wednesday, June 23rd at 4:00 p.m.
Our baseball team played a very tough schedule, won some great games, and had some dominating pitching performances by Bryce Hediger. This includes a 17 strikeout, no-hitter against Cheektowaga last Thursday night. The team will be going on the road in the playoffs to play Kenmore East on Monday, June 21st, at 5:00 p.m.. Coach David Buncy has the team peaking at the right time, as the team has won 6 of their last 8 league games.
Softball coach Rachel Bracikowski did an excellent job improving her team throughout the season. On June 4, coach Bracikowski earned her first victory as varsity softball coach. The girls will be going on the road to compete in the playoffs against Williamsville South on June 21 , 5:30 p.m.
After beating Frontier, Coed Unified basketball advanced to the championship against Clarence, where they lost a closely contested game. It was another great season by the Unified team led by Coach Tom Izydorczak and many, many incredible volunteers! Thank you!
Pioneer is continually upgrading our athletics facilities to give our coaches and athletes the best possible chance for success. This spring is no different, as work has begun on the remodeling of our physical education locker rooms. The other locker rooms will also be getting some improvements. "We can't wait to see the final results this fall," Mr. Weidner said.
As sign-ups for fall sports continue, keep in mind that participation in interscholastic sports has been declining in New York State for the last several years, with participation being down around 7 percent.
"We encourage student participation in interscholastic sports. The benefits are immense," Mr. Weidner said.
The Panthers look forward to getting back to a traditional fall sport season next year, and hope to see many of you back out at athletic events. Remember, if you can't make it, please watch us on our Pioneer Athletics YouTube channel. Also, please follow Pioneer Athletics on Twitter, @Pi_ONE_er, to get regular program updates and latest scores.