Chris Purtell has been inducted into the 2020 class of the Pioneer School District's Athletic Wall of Fame.
Purtell, a member of the Class of 2001. starred in three sports for the Panthers—football, wrestling and track and field. In football, he was a two-time first-team Class A All-League pick and Big 30 All Star. Other gridiron honors include first-team All-Western New York, first-team All-State, and Section 6 Class A Defensive Player of the Year.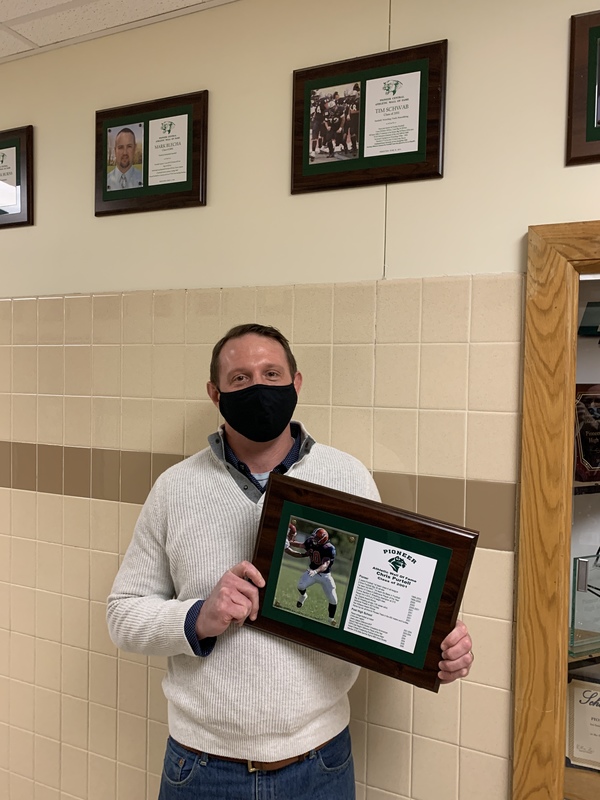 ABOVE: Chris Purtell is shown near the Wall of Fame plaque of teammate Tim Schwab.
In wrestling, Purtell was a two-time Section 6 champion at 215 lbs., third in his weight class at the state championships, an Ilio DiPaolo Award winner, and a Big 30 All-Star with 126 career wins.
In track, Purtell was a sectional finalist in the hurdles, ranks among Pioneer's top 10 in the 400 meters and hurdles, and was named the Ken Kittleson Award Winner for his athletic and academic achievements.
Purtell continued his football career at Hobart College, where he was two-time team captain and received Liberty League defensive honors. He was selected to the second team NCAA Division 3 Academic All-American and ESPN East Region Defensive Player of the Year. Academically, he was named the college's Outstanding Political Science Major and was a member of the Beta Gamma Sigma MBA Honor Society.
At Pioneer, Purtell was a member of some of the most dominant football teams in school history under then-coach Larry Slanovich. Current Panthers varsity head coach Jim Duprey nominated Purtell for enshrinement.
"Chris Purtell is a most deserving recipient of the Pioneer Wall of Fame honor," Duprey said. "He was a tremendous three-sport athlete and a great student while at Pioneer. He went on to have a standout college football and academic career at Hobart College. Chris is one of the very best all-around student-athletes in Pioneer school history."
Chris lives in Amherst with his wife Nikki and daughters Ava and Jodie.