MCMOMENTS A FRESH WAY TO CELEBRATE WRITING
Pioneer Panthers
Monday, November 25, 2019
A new partnership among Delevan Elementary, Delevan PTA, and McDonald's of Arcade is helping spice up home-school relationships.
Principal Tiffany Giannicchi said PTA and McDonald's are co-sponsoring writing celebrations with families.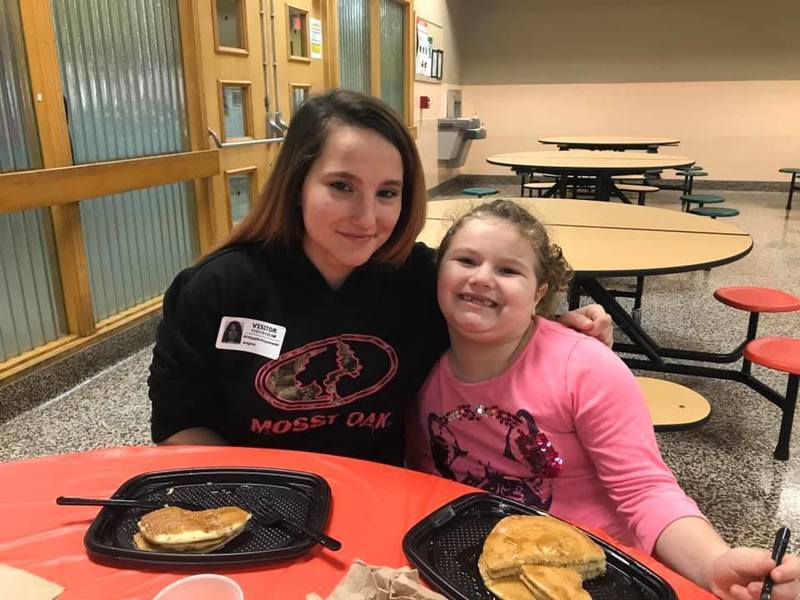 ABOVE: Parents and students find a writing celebration to be a McMomentous occasion. Shown are 1st grader Aryia and mom Bridggette.
"Our writing curriculum is Lucy Calkins' Units of Study," Mrs. Giannicchi said. "This month's unit of study in Grade 1 is 'Small Moments'. So since we are having McDonald's pancakes during these celebrations, we've called them having a McMoment. Basically, it's pancakes with pals."
In the Small Moments unit, students take the everyday events of their young lives (such as getting a dog or going to the circus) and make then into focused, well-structured stories. Writers are encouraged to write about small moments, with a focus on writing with details, including showing characters' small actions, dialogues, and internal thinking.
Delevan PTA funds and picks up the McDonalds pancakes, and sets up the breakfasts in the school cafeteria.
First grade teacher Rose Wagner said reaction to McMoments has been overwhelmingly positive. "One student of mine, Emily, said she liked having this family time, and other students said they enjoyed reading their stories and eating pancakes together."